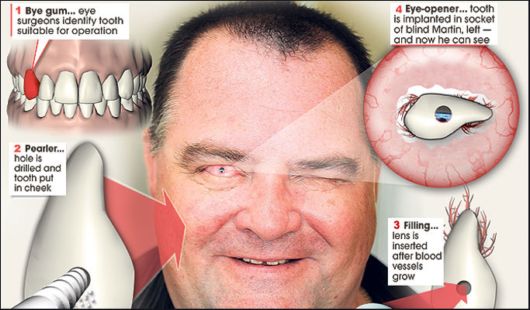 Blind man sees after tooth inserted into eye
BLIND Martin Jones has seen his wife for the first time after surgeons restored his sight using one of his TEETH. Martin, 42, was blinded when a tub of molten aluminium exploded in his face while he was working in a scrapyard 12 years ago.

He married care worker Gill, 50, eight years later so he has never seen her – until surgeons performed the incredible op. Overjoyed Martin said: "I met my wife when I was blind and when I found out there was a chance I would get my sight back the first person I wanted to see was her.
"The doctors took the bandages off and it was like looking through water and then I saw this figure and it was her. It was unbelievable. "She looked so beautiful. If felt fantastic getting my sight back. I can't describe it, it is beyond words."
Martin suffered 37 per cent burns when he was covered in the 600C liquid. He had to wear a body stocking for 23 hours a day as doctors treated his horrific burns. His left eye was so badly damaged it had to be removed.
His right was saved but he couldn't see out of it. Martin thought he would be blind for ever – until it was decided he was suitable for the revolutionary surgery.
One of his canine teeth was removed and a tiny hole was drilled into it to hold a special optical lens. The tooth was then inserted into Martin's cheek for three months to enable it to grow new tissue and blood vessels.
The lens was then fitted into the hole and the tooth was inserted into his right eyeball. Within two weeks stunned Martin could see for the first time in 12 years. The implant works by the lens allowing light into the eye which restores his vision.