SOON TO BE INTRODUCED IN CAFE MBPACS!!
Black Ivory Coffee………the latest craze after Luwak!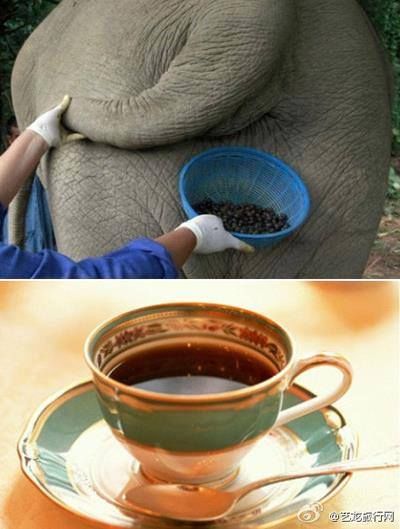 Coffee is getting competitive. With a growing coffee trend for the unique and offbeat, restaurants are looking for the newest flavors and boldest methods of brewing to keep guests coming. The rarest beans currently bring in $1,100 per kilogram, so what sets them apart from any others? Dung.
A Coffee Trend for the Unusual
Black Ivory Coffee from Maldives is the most expensive coffee around. At $50 a cup, this rarity beats out Kopi Luwak and Coati-dung Coffee as the world?s most expensive and rare coffee, though they?re all derived in a similar fashion.
The Science Behind It
Elephants are fed coffee cherries (the pit of which is the coffee bean) along with bananas and sugar cane. Thanks to the enzymatic process of digestion, proteins within the coffee cherries are broken down, creating a less bitter, more pleasurable taste. The bananas and sugar cane give the coffee a fruity flavor.
Who?s Behind Black Ivory Coffee?
After ten years of research and a $300,000 investment, Canadian entrepreneur, Blake Dinkin, created Black Ivory Coffee. The company is located in Chiang Saen, Thailand where mahouts (elephant riders) and their wives feed and collect the coffee cherries.
Where to Find Black Ivory Coffee
Black Ivory Coffee is only sold to select five star hotels (and one store dedicated to the conservation of Asian Elephants) at the moment. For a taste of this rare brew, visit the following hotels:
In Thailand
Napasi by Orient Express
Conrad Koh Samui
The Pavilions Resort
Paresa Resorts
The Peninsula Bangkok
Phulay Bay, A Ritz-Carlton Retreat
Four Seasons Tented Camp Golden Triangle
The Siam Hotel
Grand Hyatt Erawan Bangkok
Anantara Golden Triangle

In Maldives


Anantara Dhigu Resort and Spa
Anantara Kihavah Villa
Naladhu

In the United States


Elephant Story

Treatment of Animals in this Coffee Trend

There have been reports suggesting that the civets involved in making Kopi Luwak were caged and abused, leading to the prevalence of ?cruelty-free? coffee.
As for Black Ivory Coffee, the elephants are said to be free-range and treated ethically. A portion of these coffee sales goes to paying for free veterinary services for the elephants.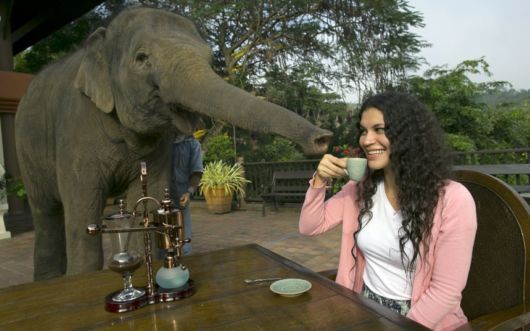 "use strict"; var adace_load_656616c3591f3 = function(){ var viewport = $(window).width(); var tabletStart = 601; var landscapeStart = 801; var tabletEnd = 961; var content = '%3Cdiv%20class%3D%22adace_adsense_656616c358d29%22%3E%3Cscript%20async%20src%3D%22%2F%2Fpagead2.googlesyndication.com%2Fpagead%2Fjs%2Fadsbygoogle.js%22%3E%3C%2Fscript%3E%0A%09%09%3Cins%20class%3D%22adsbygoogle%22%0A%09%09style%3D%22display%3Ablock%3B%22%0A%09%09data-ad-client%3D%22ca-pub-4574792303897814%22%0A%09%09data-ad-slot%3D%227720069862%22%0A%09%09data-ad-format%3D%22auto%22%0A%09%09%3E%3C%2Fins%3E%0A%09%09%3Cscript%3E%28adsbygoogle%20%3D%20window.adsbygoogle%20%7C%7C%20%5B%5D%29.push%28%7B%7D%29%3B%3C%2Fscript%3E%3C%2Fdiv%3E'; var unpack = true; if(viewport=tabletStart && viewport=landscapeStart && viewport=tabletStart && viewport=tabletEnd){ if ($wrapper.hasClass('.adace-hide-on-desktop')){ $wrapper.remove(); } } if(unpack) { $self.replaceWith(decodeURIComponent(content)); } } if($wrapper.css('visibility') === 'visible' ) { adace_load_656616c3591f3(); } else { //fire when visible. var refreshIntervalId = setInterval(function(){ if($wrapper.css('visibility') === 'visible' ) { adace_load_656616c3591f3(); clearInterval(refreshIntervalId); } }, 999); }
})(jQuery);