1. Card Keys

This building was built from 200,000 card keys. Each room and every wall, even the toilets, are made of card keys. The hotel was built by Bryan Berg, who has a world record in building a house of cards.
2. Containers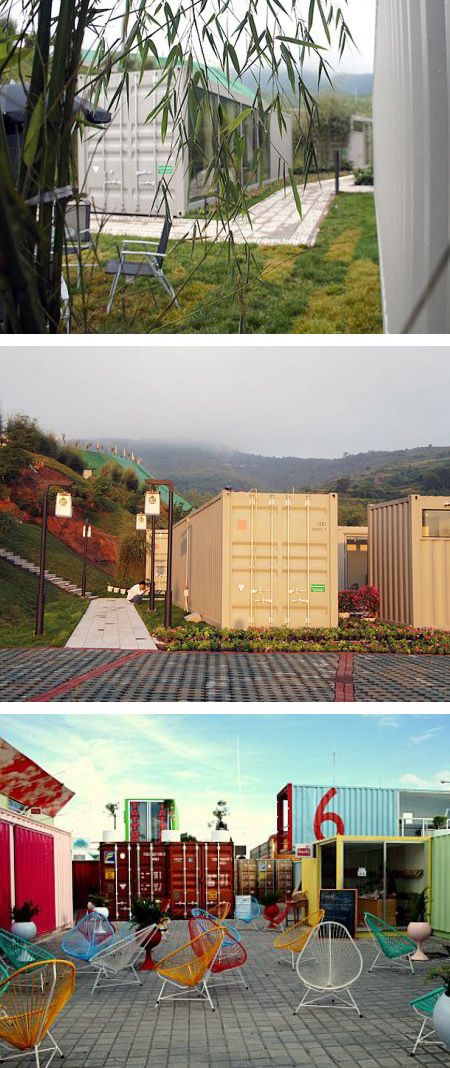 The Tonghe Shanzi Landscape Design company has built their incredible five star Xiang Xiang Xiang Pray House hotel entirely out of shipping containers! Looking like a drab shipping container village from the outside, the hotel oozes luxurious design inside its twenty-one cozy guest rooms, arranged on a hillside in Changski, China. Each room is fitted with traditional Chinese décor, skylights, high-design furniture and more!
The container hotels could also be designed in one city, and easily transported to another, making pop-up hotels possible anywhere. The Xiang Xiang Pray House will open in August of 2012.
3. Chocolate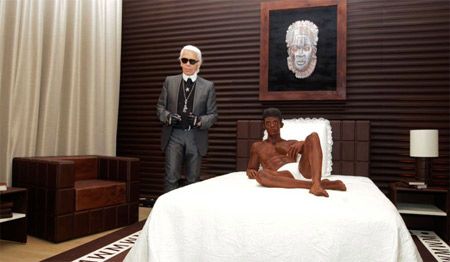 Karl Lagerfeld has designed a hotel made entirely of chocolate.
This eccentric designer has created "The Magnum Chocolate Hotel Suite" to celebrate the launch of Magnum Ecuador and Ghana ice creams, which are made with specially selected cocoa beans sourced from Rainforest Alliance Certified farms in Ecuador and Ghana. Using 10.5 tonnes of chocolate, it includes a chocolate sculpture of French male model, Karl's muse, Baptise Giabiconi, draped seductively on the chocolate bed.
4. Clay, reed, wood and shell stone

Located near Orel's riverbank, 18 miles away from the city of Dnepropertrovsk in the Ukraine, the Friend Hotel is steeped in a lush and green forest. Before its construction, Ryntovt Design did an extended ecological analysis taking into account the local resources and energy of the area. The interior spaces are harmonious with the beautiful outdoors, and only "ecologically harmless materials" like clay, reed, wood, and shell stone, were used in construction.
5. Tubes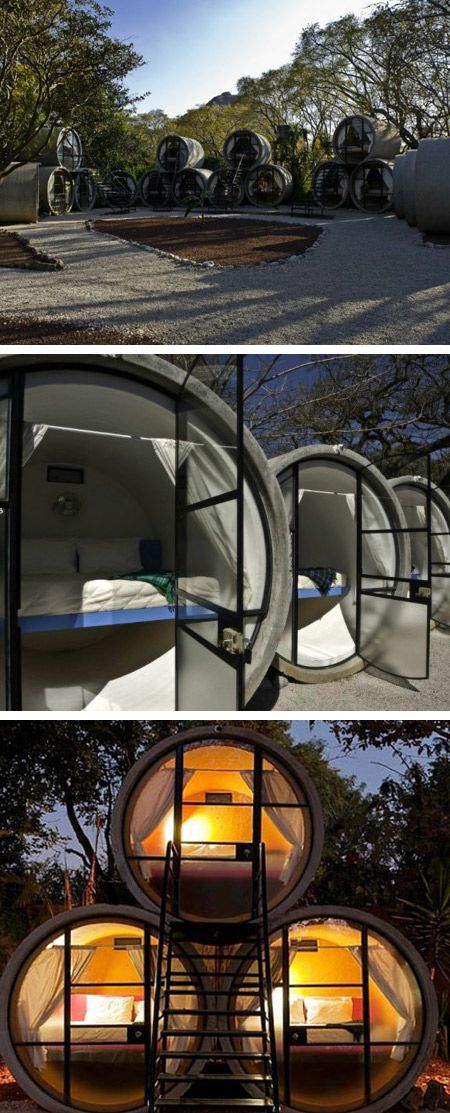 Designed by t3arc, the recycled pipe TuboHotel accommodates two people in a queen-size bed with panoramic views of the Sierra del Tepozteco, Mexico. The goal in designing the modular hotel was to build fast and affordable accommodation.
6. Railway Carriages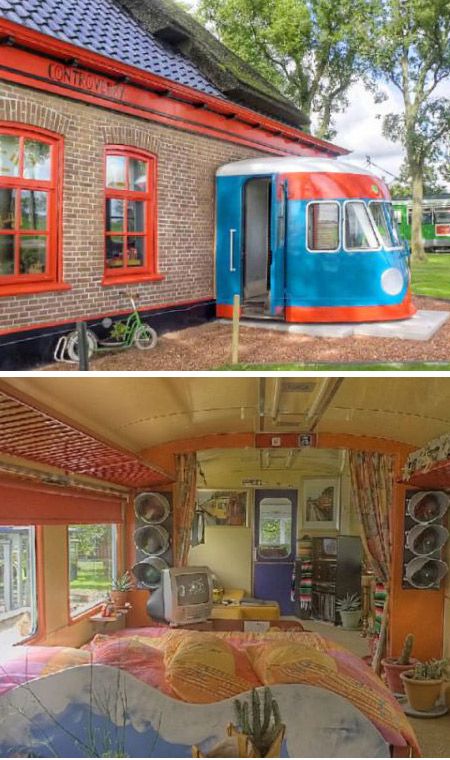 This amazing hotel, named ?Controversy Inn,? consists of four train carriages recycled into a building that is comfortable, with beds that have a theme, and a breakfast room. "Controversy" is located at Farm in Hoogwoud, the Netherlands. This eco-hotel consists of various vintage items that are recycled into something new again. Like a table made of boards of traffic signs, and even a bed made from old ships.
7. Sand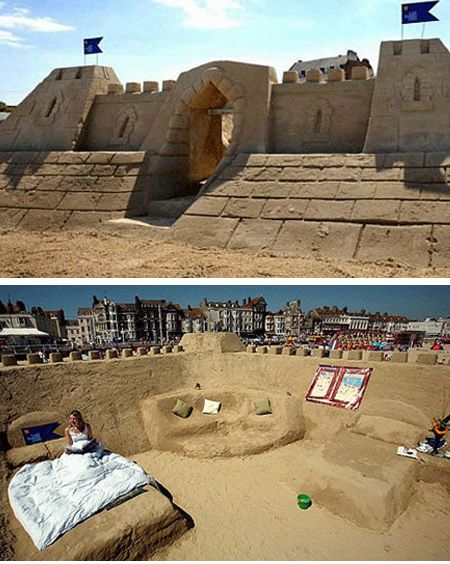 They have the sun, the sand, and the sea, but you can't get much more of the beach where they've also got the world's largest and only sand castle hotel, made entirely of sand on Weymouth beach in Dorset, UK.
The open air family room with a sea-side view has a double and a single bed made of sand which will set you back a mere $21 (£10) a night to sleep under the starry skies. You can wake up to the ocean when the ?tide laps through the door.?
8. Salt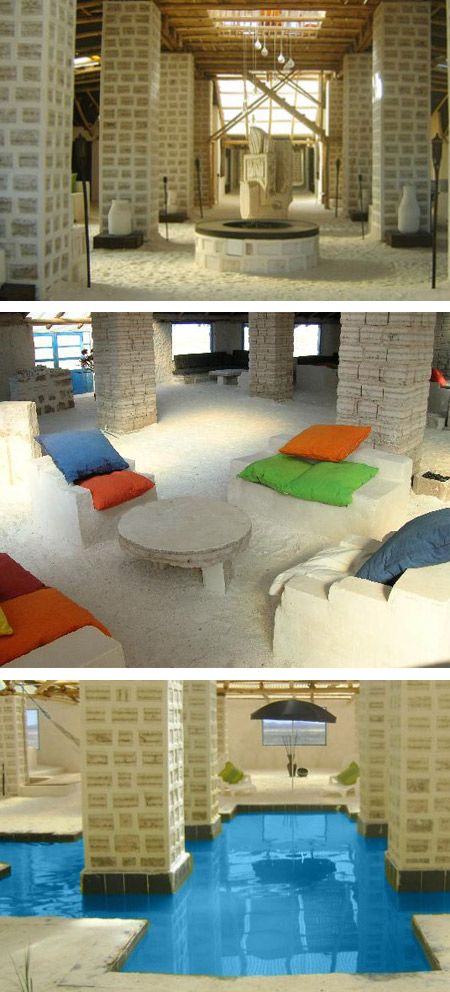 Palacio de Sal (Spanish for ?Salt Palace?) is a hotel built from salt blocks. It is located at the edge of the Salar de Uyuni, the world's largest salt flat, 350 kms south of Bolivia's capital, La Paz.
The hotel walls are made of salt blocks stuck together with a cement-like substance made of salt and water. During rainy seasons, the walls are strengthened with new blocks, while the owners ask the guests to avoid licking the walls to prevent deterioration.
9. Caravans
Crazy project by a group of friends from Berlin, Germany, urban camping under a roof! To achieve this, they refurbished an old factory in Neukolln, renovated the hangar, then set out to transform it into a hotel by installing old caravans and mobile homes. Called Hutten Palast, which could translate to "Caravan Palace," you sleep in the privacy of your caravan, while sharing common areas under a roof. The furniture and decor were hunted for by the owners. The hotel also has a terrace garden and a cafe restaurant.
10. Wine Casks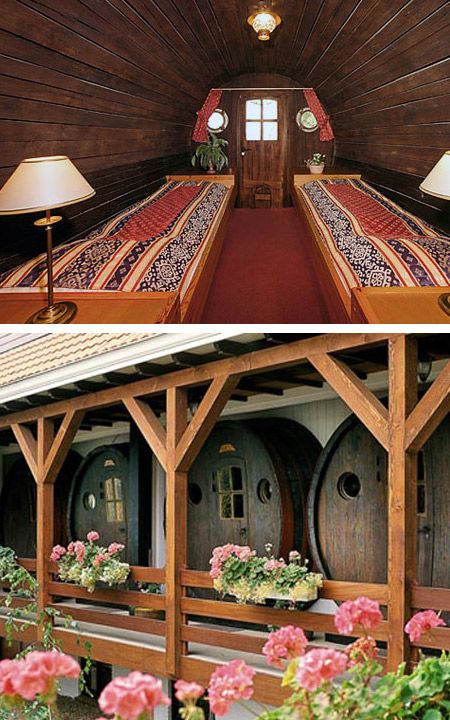 Ever fall asleep alongside a good glass of French wine? How about inside a cask of a good French wine? The De Vrouwe van Stavoren Hotel in the Netherlands salvaged four wine casks from Switzerland and converted them into rooms.
Formerly filled with 14,500 liters of Beaujolais wine from a French chateau, each now holds a modest two-person room with standard amenities and even an attached bathroom and sitting room. Visitors from all around the world have traveled to the quaint northern port town of Stavoren to stay in one of these upcycled rooms. p78