1. Pizza Hut Waitress Receives $10,000 Tip, Goes to College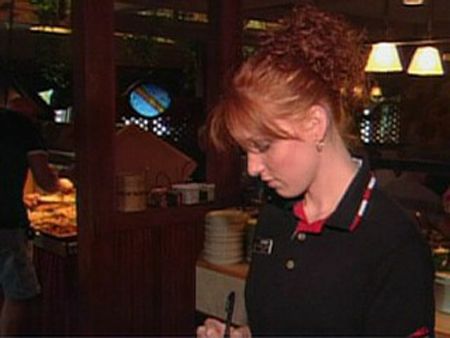 Talk about extra toppings! Jessica Osborne, a 20-year-old Pizza Hut employee in Angola, Indiana got a life-changing tip of $10,000 from a regular customer who gave her name only as ?Becky.? Osborne had become friendly with Becky and her family, who would come in every Friday. Osborne had been struggling financially, and had recently withdrawn from a local college because of a lack of funds. Becky and her family had also gone through tough times; Becky's husband and daughter were killed in an auto accident. When a large settlement from the accident came in, Becky decided to use some of the money to help Osborne out. ABC News quoted her as saying, "It's unbelievable. It doesn't happen to people every day. I mean, I work at Pizza Hut!"
2. Cop Splits $1 Lottery Ticket With Waitress, They Win $6 Million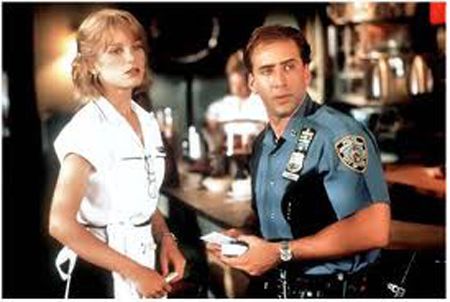 It did happen, but not like this…
This is probably the most famous generous tip of all. On March 30, 1984 at Sal's Pizzeria in Yonkers, New York, a police detective named Robert Cunningham made an off-the-cuff suggestion to waitress Phyllis Penzo. No, it was wasn't sexual – he asked her if she would want to split potential winnings on a $1 lottery ticket instead of a tip. She agreed, and helped pick three of the six numbers. Lo and behold, the next day that $1 ticket was worth $6 million, which was evenly split between the two. This was later turned into a movie called It Could Happen To You starring Nicholas Cage and Bridget Fonda, but many of the facts were changed. The two were never romantically involved and kept their modest lifestyles. Penzo, who worked at Sal's for 24 years, continued waitressing until 1986, when she finally got tired of customers offering her lottery tickets.
3. $12,000 Tip or Drug Money?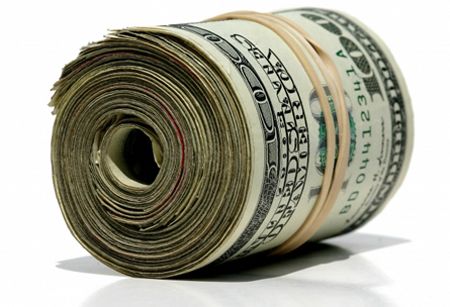 Here's one of the more unusual tipping stories we've seen. Stacy Knutson, a waitress at Moorhead's Frying Pan in Moorhead, Minnesota was surprised to find $12,000 in cash inside a ?to go? box left on the table by a customer. However, instead of just pocketing the ?tip? she reported the money to the police, who told her the money would be hers if no one else claimed it after 60 days. But when she went to claim the money after the wait, Knutson was told it was part of a drug investigation because the money had ?a strong odor of marijuana.? She filed a lawsuit, and eventually won the right to keep this giant ?tip.?
4. Waitress Receives $1,000 Tip on $60.42 for a Trip to Italy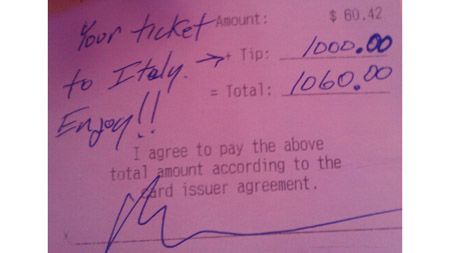 Chalk one up for ?random acts of kindness.? A waitress at an unnamed ?mom and pop? diner in Texas received a $1000 tip from a customer she had only met minutes before. The waitresses' daughter, who works with her mom, posted the entire story on her blog.
"ABOUT? 15 MINUTES AGO THIS GUY SHE WAITED ON LEFT AND TOLD HER TO TAKE CARE. JUST THAT. PRIOR TO THIS SHE HAD TALKED TO HIM ABOUT ITALY. HER PEOPLE ARE FROM FLORENCE, THIS AND THAT, AND SHE SAID SHE'S NEVER BEEN. SHE'S GOT 8 YEARS OF ART EDUCATION AND SHE'S WORKING A WAITRESS JOB. IT'S PRETTY? SAD AND DISAPPOINTING, I GUESS. HER AND MY FATHER DIVORCED 6 YEARS AGO AND SHE HASN'T HAD A REAL JOB EVER. JUST BEEN STUCK IN A SMALL TOWN SHE'S NOT FROM.
THIS MAN WHO WE HAVE NEVER SEEN BEFORE TIPPED HER 1000 DOLLARS FOR A TRIP TO ITALY. WALKED OUT, NOT ANOTHER WORD."
The story went viral, even though its scant details make it hard to actually prove. Technically, according to the receipt, the customer stiffed the restaurant 42 cents! It's unclear whether the woman did indeed go to Italy at all. If you want to know more, you can ask the daughter on her blog (link below).
5. Waiter Gets $5,000 Tip on $26, Replaces Damaged Car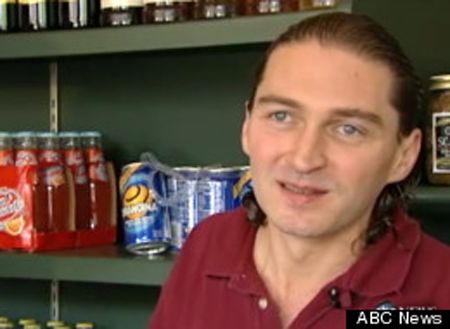 Greg Rubar, a Houston waiter at D'Amico's Italian Market Cafe, had his lucky day on May 26, 2012. Rubar, a waiter at the restaurant for 16 years, was serving a couple who came in regularly, always ordering the unusual combo of soup and wine. Rubar had recently had his car destroyed by a severe thunderstorm. According to D'Amico's press release, "The couple, who do not want to be identified, thought anyone who has worked as hard and as proficiently as Rubar has for so long, shouldn't be punished for something so out of his control. They had gone to the restaurant that night to present him with the money."
6. Johnny Depp's $4,000 Tip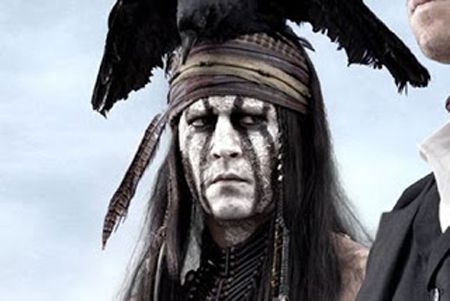 Here's a tip… don't mention The Lone Ranger
.
One famously generous celebrity tipper is Johnny Depp, star of many huge blockbusters (as well as flops). Regardless of his latest box office hit-or-miss, he always treats waitstaff well. One of his most generous gratuities was to Mohammed A. Sekhani, a long-time waiter at Gibson's, a famous Chicago steak joint. One particular evening in 2009, Radar Online reported that Depp and a group of friends took up a private room at 11:30 pm, ordering expensive bottles of wine and baked clams. When they left at 2:30 am, he treated ?Mo? to a hearty $4,000 tip and promised to return. I'm sure Mo is counting the days!
7. $500 Left for Random Waiters and Waitresses as Part of a Dying Wish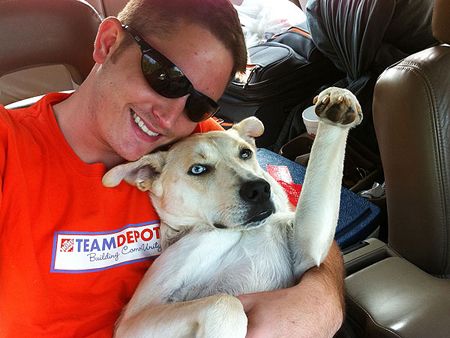 Aaron Collins was known to family and friends for his generosity. Before the 30-year old passed away unexpectedly on July 7, 2012, he had left instructions for his family: ?Leave an awesome tip (and I don't mean 25%. I mean $500 on a f***ing pizza) for a waiter or waitress.? (He was also known for his way with words.) Through a special website set up in his memorial, the family raised $500 to complete their son't last wish… and then some. A video of them donating their first $500 to a waitress at Puccini's went viral. Donations have poured in ever since, and an interactive map with video shows all the different places they have gone, leaving $500 tips in Aaron's name.
8. $458 Tip for a Pizza Waitress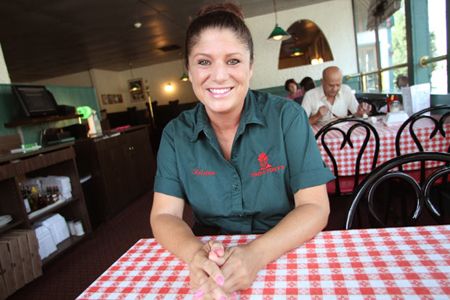 What is it with pizza places and big tips? Exactly half of our list is from Italian-themed restaurants. Kristen Ruggiero, who worked at Uncle Tony's Pizza and Pasta in Providence, Rhode Island, was the recipient of a $458 tip on top of a $42 check. Like most people on this list, at first she thought it was a mistake. She did not know the middle-aged couple that left the 5 $100 bills, and they disappeared before she could ask them. However, one month later, the couple returned to tell Ruggerio that it was left on purpose. ?You deserved it,? they were quoted as saying.
9. $446 Tip on a $6 Meal at Steak ?n Shake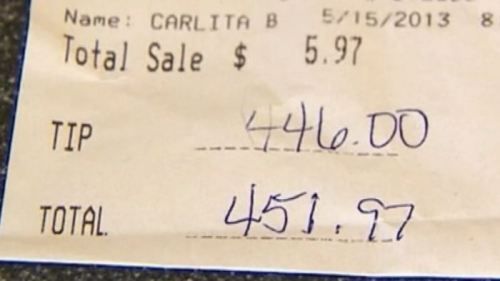 Some big tippers don't need to have any reason behind their gratuity, other than gratitude for good service. At least that seems to be what happened to CeCe Bruce when she was working at an Indianapolis Steak ?n Shake. A regular customer, identified as ?Miss Jo,? added $446 dollars to her $5.97 meal. When Bruce initially declined the tip, Miss Jo insisted, saying, ?You need to take it.? The restaurant's general manager described Bruce as a great employee that deserved every penny.
10. Rapper The Game Leaves $250 Tip, Claims it was $6,000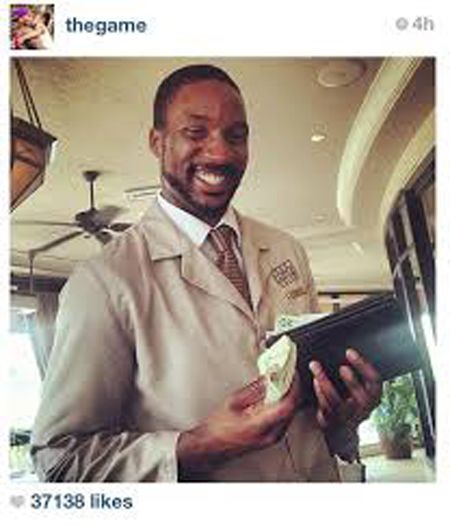 Somebody got Gamed.
Celebrities: either they are huge tippers or notoriously stingy. Rapper The Game falls somewhere in between. On Easter Sunday 2013, Game went for a meal at Capitale Grille in West Hollywood, and proudly tweeted a photo of waiter Eme Ikuakor holding a wad of cash and claiming he left a $6000 tip. ?My HEART made me do it," said part of the rambling message. Upon investigation by TMZ, however, it turns out that the actual amount was $250. It's still a big tip, but not quite as tweet-worthy as it appeared.