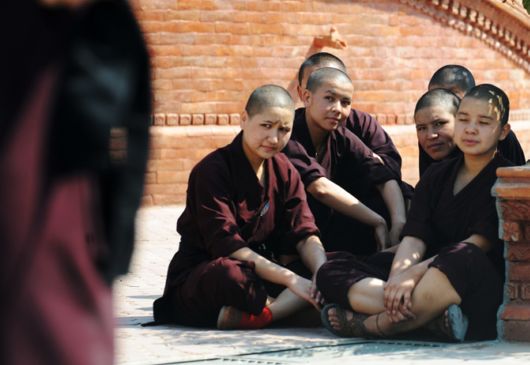 It is a hot, cloudless morning on a hillside on the outskirts of Kathmandu and dozens of nuns arrange themselves into lines around a golden Buddhist shrine.
In unison, each slams a clenched fist into their opposite palm, breathes deeply and waits, motionless in the rising heat.
But these devotees are not here to pray or to meditate, for they have gathered to undergo a rigorous and aggressive martial arts routine as the world?s first order of kung fu nuns.
Every day, they exchange their maroon robes and philosophical studies for a intense 90-minute session of hand chops, punches, shrieks and soaring high kicks.
The nuns, in contrast to most Buddhist groups, are also taught to lead prayers and given basic business skills, as well as running a guest house and coffee shop at the abbey and driving jeeps to Kathmandu to get supplies.
Kung fu came to the nunnery only four years ago when its spiritual leader, His Holiness the 12th Gyalwang Drukpa, visited Vietnam, where he saw nuns receiving combat training that was previously used by Viet Cong guerrillas.
?His Holiness wants the nuns to be like the men, with the same rights in the world,? she said. ?That is why we get the chance to do everything, not just kung fu.
?We also have the chance here to learn many things, like tennis and skating. And we have the chance also to learn English and Tibetan, and musical instruments.
?In the past only men could do some of the dances. Now we have the chance to take part. Before nuns could not do anything and now we have the chance to do anything the monks can do.?The nunnery is enjoying a surge in popularity since introducing the kung fu lessons and now has some 300 nuns practising martial arts techniques. ? Photos by AFP.