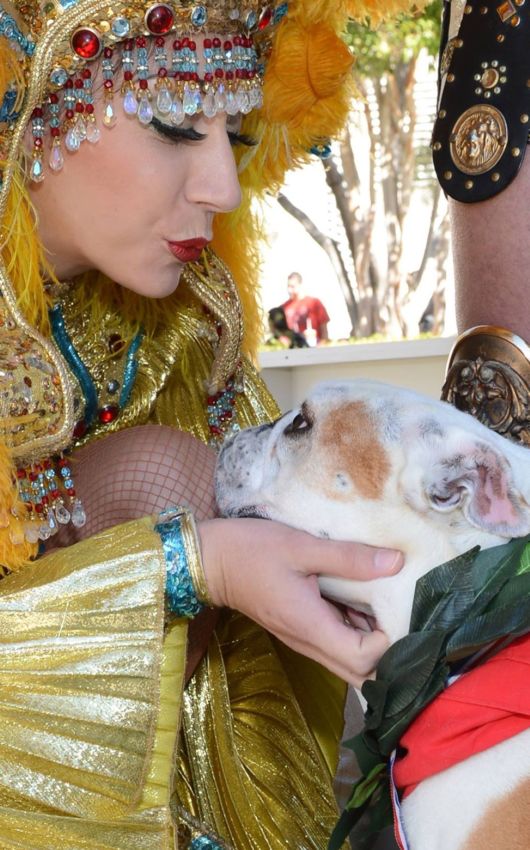 We hosted our inaugural ?Running of the Bulldogs? Saturday, September 28th. The event, in celebration of Caesars Entertainment?s PetStay program and National Dog Week, featured dozens of four-legged competitors racing toward a doghouse replica of the famed Colosseum in front of Caesars Palace.
Photos by Denise Truscello / WireImage
Bulldog is the name for a breed of dog commonly referred to as the English Bulldog. Other Bulldog breeds include the American Bulldog, Olde English Bulldogge, and the French Bulldog. The Bulldog is a muscular, heavy dog with a wrinkled face and a distinctive pushed-in nose. The American Kennel Club (AKC), The Kennel Club (UK), and the United Kennel Club (UKC) oversee breeding standards.
According to the American Kennel Club (AKC), a Bulldog?s disposition should be ?equable and kind, resolute, and courageous (not vicious or aggressive), and demeanor should be pacific and dignified. These attributes should be countenanced by the expression and behavior.?
Breeders have worked to reduce/remove aggression from these dogs. Because of this, the Bulldog is known to be of good temperament. Most have a friendly, patient nature. Generally, Bulldogs are known for getting along well with children, other dogs, and pets.
They can be so attached to home and family that they will not venture out of the yard without a human companion and are more likely to sleep on someone's lap than chase a ball around the yard.