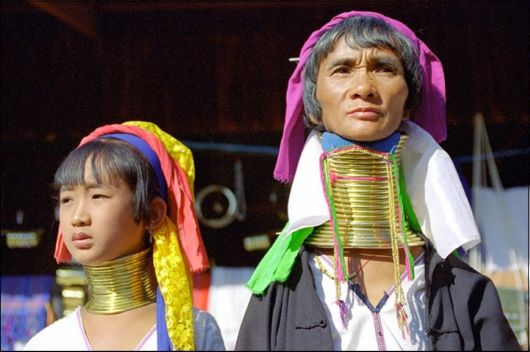 The Paduang hill tribe, where the women wear huge brass rings around the neck are not a individual tribe but a sub-group of the Karen hill tribes.The famous Paduang or giraffe women hill tribe is located near Ban Nam Phiang Din, in the Mae Hong Son province of Northern Thailand, just at the border of Myanmar (Burma), in a small secluded valley right outside the provincial City "Mae Hong Son" of the Mae Hong Son province.
With the help of the Thai government, they set up the Paduang refugee-village in a small valley of Mae Hong Son province.Today,the Paduang hill tribe in the Golden Triangle of Thailand counts about 485 members .
Nowadays, the small refugee village of the long necked Paduang hill tribe, is completely geared towards visitors and tourists and is seemingly on every tour agency's day-trip list. The Long-necked Paduang have become the most popular tourist attraction of all the hill tribes in Thailand.