Castles That Will Inspire and Haunt You
Arguably born the day that villagers — and the people who profited off them — decided that wood wasn?t strong enough to keep them safe, castles quickly became more than just edifices dedicated to security. Instead of repelling borders, real or imaginary, castles became THE status symbol of status symbols. Monuments to bravado, they were stone and mortal proclamations to the age-old idea that "mine is bigger than yours."
If you want an picture-postcard example of a castle, you don?t have to go anywhere but the Château de Pierrefonds in France. Although it may have started out as a structure designed to keep some folks out and others safely in, it was later partially sugar frosted by none other than Napoleon the 3rd, who was shooting for a true nobility status symbol: a iced cake that no one but the very rich and very privileged could eat.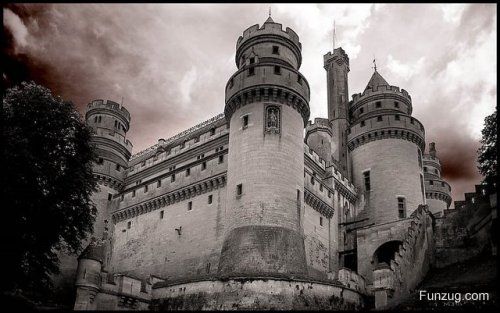 (image credit: Frédéric Lavaux)
Pierrefonds is still a beautiful place, even if its fortifications were overly gilded ?- or maybe because of it. It?s no wonder it's used to this day when central casting gets a call for a classic castle.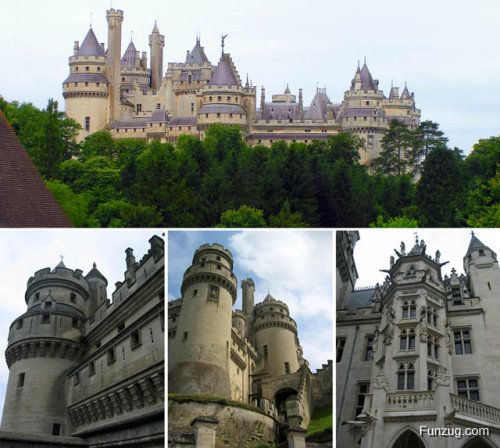 (photos by Ralph Gant and Benoit Stordeur, see more)
When fairy tale jumps from a landscape and hits you between the eyes
If you want a real Disney, fairy-tale, and totally insane castle, you have to visit the residence of one totally insane German king, namely Ludwig II of Bavaria. Look up gaudy in the dictionary and there?s a picture of his castle: Neuschwanstein ("The New Swan Rock").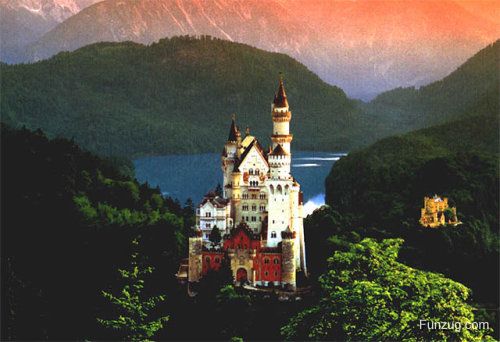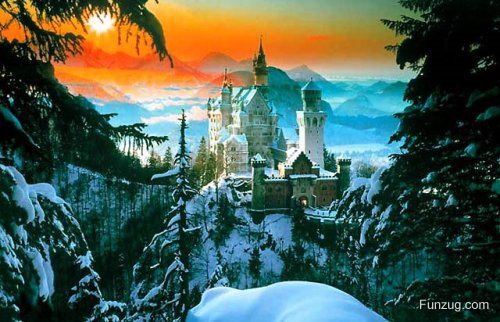 Neuschwanstein Castle, gracing ten million over-saturated postcards and jigsaw puzzles, (image credits unknown)
Glitzed and filigreed, Neuschwanstein is like Ludwig?s twisted brain turned inside out and realized in stone and brick. It is also sublime and splendid, over-the-top and strangely fragile – all at the same time. We are going to devote a special article to it, truly a place not of this world.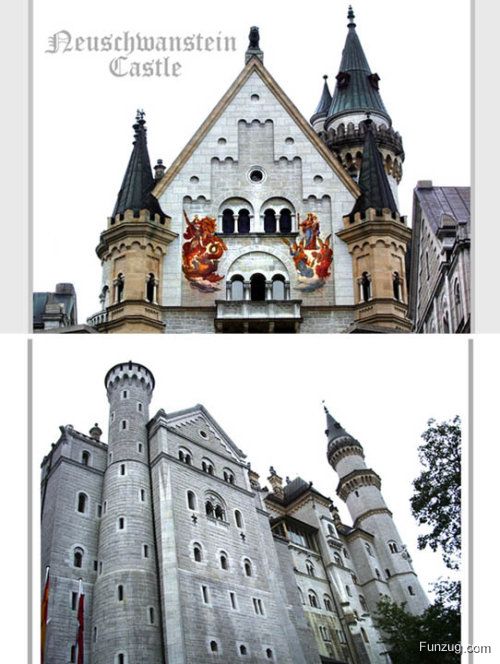 photos by Avi Abrams
Monstrous chandelier? Check. Room made to look like a cavern? It?s there. Entire rooms dedicated to Wagner (with whom Ludwig was obsessed)? Absolutely. It?s all there, larger and more ornate than any life ? unless, of course, you were the King of Bavaria.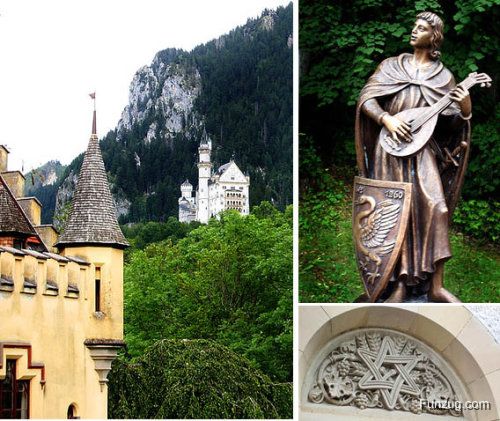 The Coral Castle – Nobody knows how it was built
One of my favorite castles, though, wasn?t the dream of a king realized in stone and mortar. Spurned at the altar back in his native Latvia, Edward Leedskalnin took his disappointment, and a case of tuberculosis, to Florida in 1923. There, in the land of oranges and sunshine, Leedskalnin began to build his very own castle, one he worked on until his death in 1951 (more info)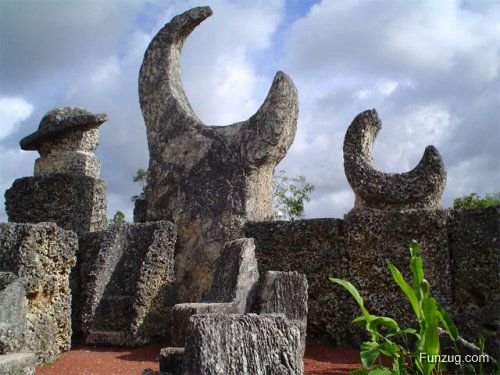 (image credit: sarahmizoo)


(images credit: Jim)
It?s still there and definitely worth seeing. It might not have the polish of Pierrefonds or the glimmer of Neuschwanstein, but Rock Gate Park, as he called it, is still a striking sight: monstrous slabs of coral skillfully balanced and beautifully positioned, all of them assembled without reinforcement or mortar. He spent over 28 years building the Coral Castle, refusing to allow anyone to view while he worked.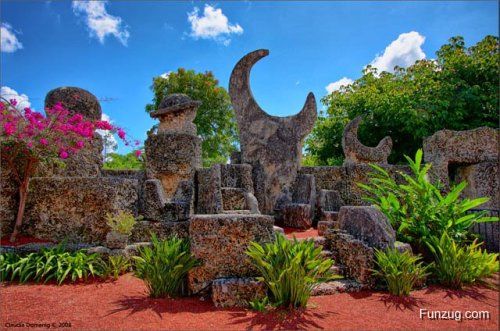 (The Throne Room, supposed to depict the Moon and the planets – photo by Claudia Domenig)
Leedskalnin?s construction genius is legendary. No one quite understands how he built his castle and then moved it ten miles away in 1936. Some people think he used a kind of perpetual motion machine or mystical methods to move his several-ton blocks. Whatever the means, his Coral Castle, is still a magnificent achievement -? the sublime result of his own two hands, his incredible inventiveness, and a tragically broken heart.
Portmeirion: a surreal village in Gwynedd, Wales
Stepping away from literal castles, but staying within the theme of very special men and the homes they created, one of the most beautiful is one you might not know the name of but one you?d recognize immediately. All I need to write is "You are Number 6."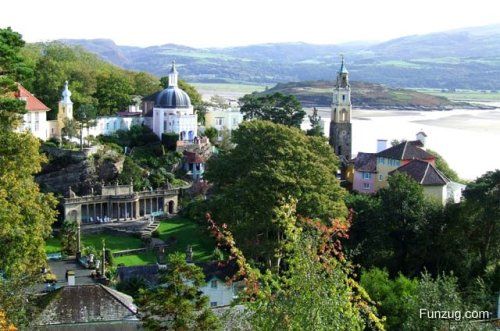 (image credit: Richard Hagen)
Located in Wales, Portmeirion was created by Sir Clough Williams-Ellis in 1925 (though some of it wasn?t finished until 1975). Although Sir Williams-Ellis wasn?t a king, he was obviously knighted, and certainly had help with his remarkable residence. Portmeirion deserves to stand with Ludwig?s vision of Germanic paradise and Leedskalnin?s eccentric coral castle because of its unique, and spectacularly beautiful, vision.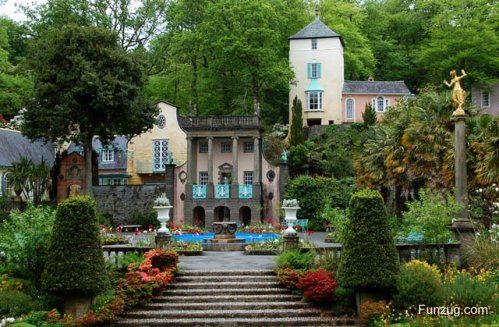 (image credit: Gavin D. J. Harper)
Williams-Ellis was so dedicated to preserving the tranquil elegance of Portmeirion that the filming location of Patrick McGoohan?s "The Prisoner" wasn?t revealed until the final episode of the series. Even with the careful hiding of the village?s identity, anyone who knew anything about architecture would have recognized the Williams-Ellis?s pearl-white cottages and the legendary green dome where, in "The Prisoner", the village?s rotating Number 2s had their office.
(image credit: Matt Buck)
Portmeirion is truly a beautiful place and completely unspoiled by its television appearance. It remains today just as Williams-Ellis intended it to be: a tranquil village with a tasteful dusting of nostalgia.
The Postman's Palace – another single-handedly built castle
Ferdinand Cheval has imagined his "Ideal Palace" and simply went on to built it – after all, why not? He spent 33 years with this project (located in the village of Hauterives in the picturesque Drôme region of Southern France) – but the results are nothing less than stunning: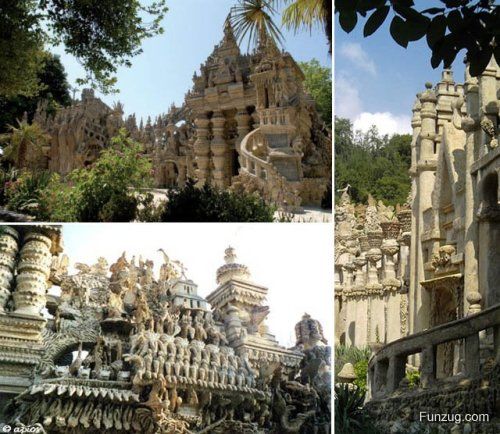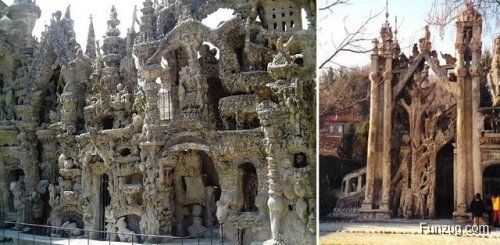 (photos by Emmanuel Georges, Eric Devlies, Francerama)
Initially considered "the village idiot", he was suddenly hailed as a genius and a celebrity in France, upon completion of this intricate affair. But is it the "Ideal Palace"? Everyone seems to have a different opinion. More info and images are on this page.
Whether it's the gussied-up fortresses like Pierrefonds, the gilded dreams of a mad king like Neuschwanstein, the eccentric genius of Leedskalnin and his Coral Castle, or the whimsical grace of Williams-Ellis?s Portmeirion and Ferdinand Cheval's Palace, a man?s home can really be his castle.
More Fantastic Castles, to Visit and to Think About (Wistfully)
Eltz Castle, Germany: another fairy-tale location, this time completely surrounded (and in certain degree concealed) by the forest: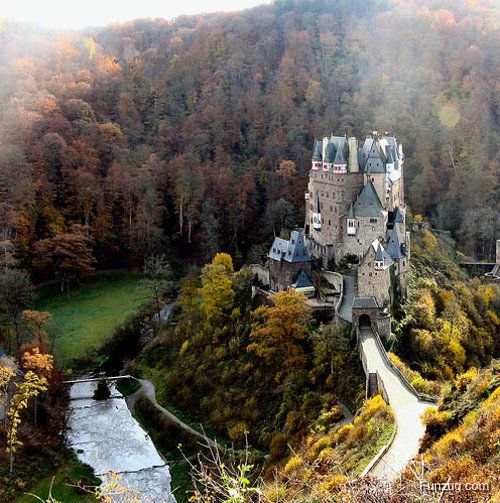 (image credit: frizztext, see more)
Germany (just like Switzerland and Austria) has many enchanting castles, big and small –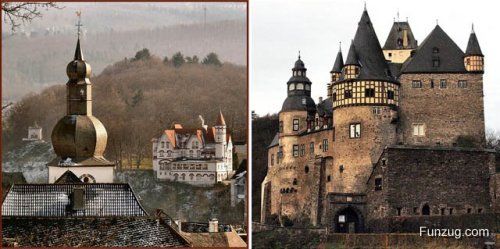 Castle-like mansion in Arnsberg and a large Buerresheim Castle, photos by frizztext
The stretch of Rhein between Cologne and Mainz has the especially high concentration of great fortresses, presiding over the quaint riverside villages: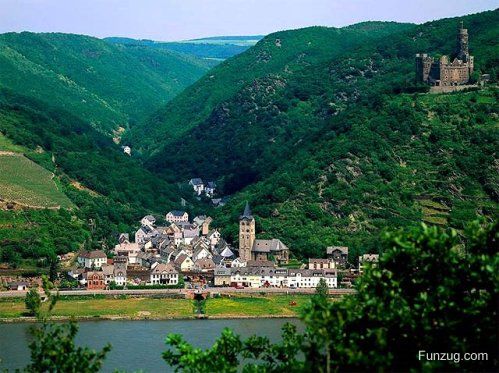 This is a great site listing all the castles
Egeskov Castle, Denmark: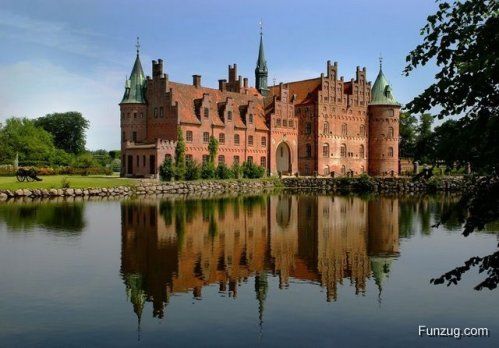 (image credit: Malene Thyssen)
Eastern Europe abounds in awesome castles. This is for example, Castle in Moszna, Poland: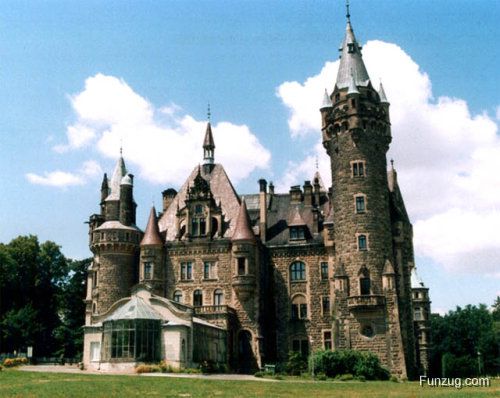 Check out the sinister door handle from the Dracula's Bran Castle on the bottom right. Towers emerging from the mist in the photo below: this is Bragança, a walled town in northern Portugal. Very evocative image on the bottom left is Le Chateau de Nyon in Nyon, Switzerland: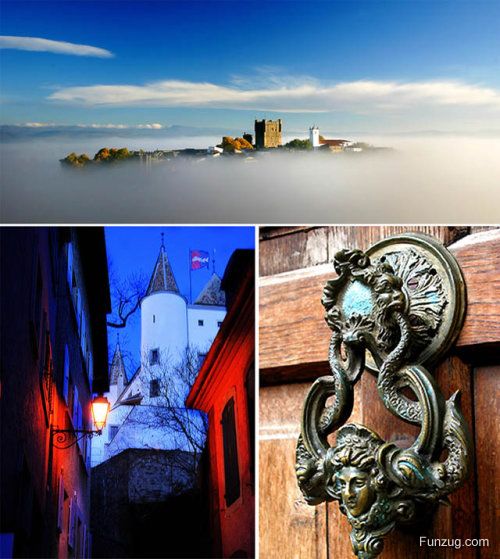 (originals unknown)
The Chittorgarh Fort in India. This pool was often the only source of water during the numerous sieges by Mughal Emperors: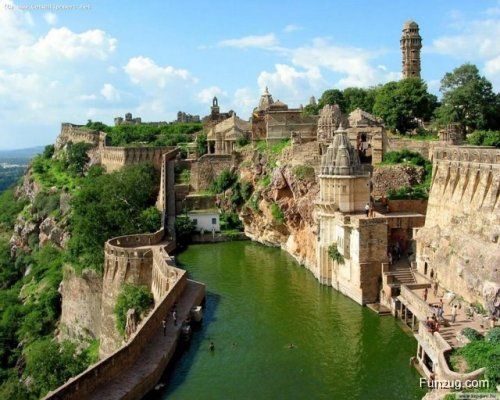 (image via)
Nestled in High Places:
The way to the Guaita Fortress in San Marino (more info) –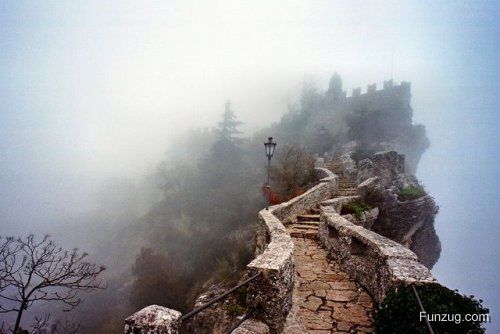 Try not to think of "Myst" and "Riven" while looking at the above picture… Here is the high cliff on which the fortress stands: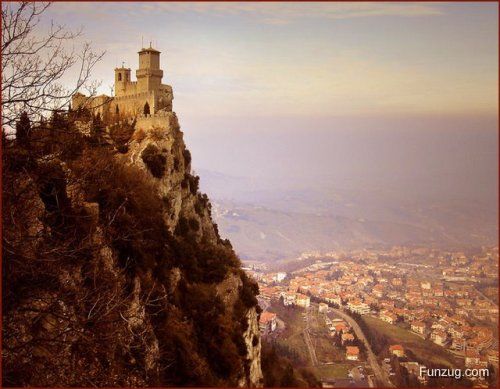 (image credit: Ricardo André Frantz)
Overlooking the Echaz Valley and the storybook village below, often shrouded in fog, Lichtenstein Castle comes close to being the perfect castle in Europe.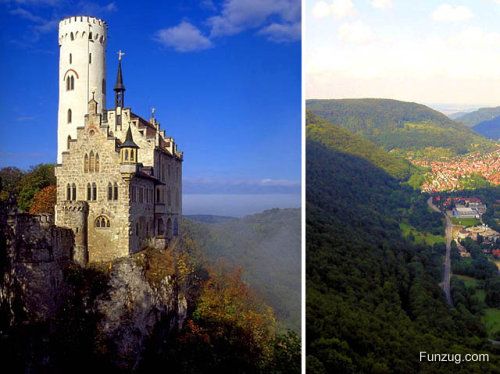 (image credit: Andreas Tille)
The Abandoned Castle in Rural Italy
Oh yes, still unclaimed by some luxury developer, nor touched by multi-million renovation… hiding in a valley in a tangled forest: Castello di Zena:
(here is a Google Earth location, but don't set your hopes too high – this is a guarded private property)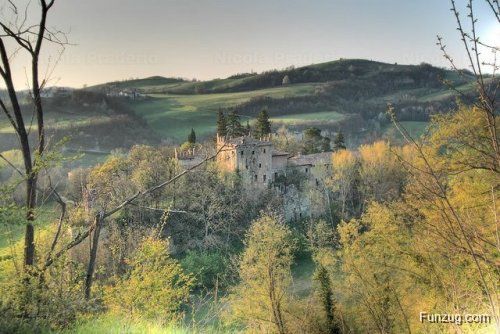 (image credit: cyberbiscottato)
A mystery. Falling to pieces. Splendor in the grass.
A View That Launched 10,000 Epic Fantasy Books
Another feature of fortified high places is the splendid view they often afford. We'd like to open up a sort of competition: The Best View From a Castle, but the winner already easily comes to mind – and it's the Neuschwanstein's Castle, again. The panorama of the towering Alps and a nestled gem of the lake, Alpsee, is enough to make you sigh and close your eyes… dreaming.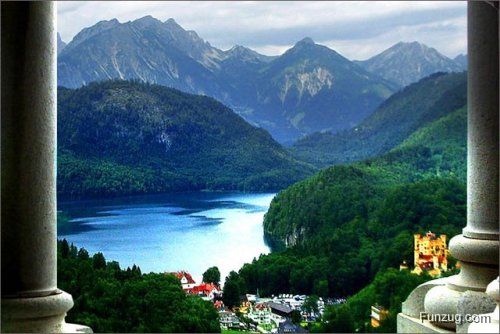 Photo by Avi Abrams
The ultimate castle, that was ever designed to grace the face of the Earth
King Ludwig, again. The planned Falkenstein – truly THE Lost Castle. The one that he was all set to build – but for the financial (and mental) meltdown he suffered.
Christian Jank's first High Gothic design for Falkenstein, 1883.