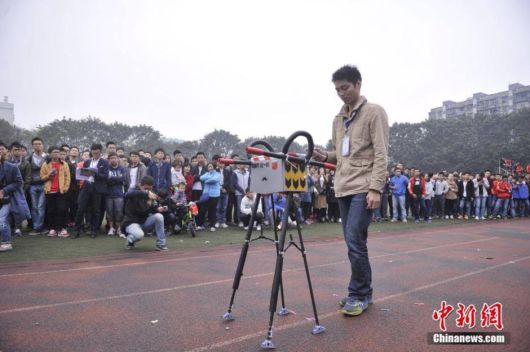 A quadruped robot in the southwestern municipality of Chongqing walked its way on to the pages of the Guinness World Records book on Sunday. "Walker No 1" was developed by Li Qingdu, a professor with the college of automation under the Chongqing University of Post and Telecommunications. Starting on Oct. 24, it took 340,000 continuous steps over 54 hours covering a distance of 134.03 km and used 0.8 kwh of power.
The previous record was set by Ranger, a quadruped robot developed by Cornell University in America, which walked 65 km in 30 hours consuming 0.5 kwh.
Li and his team began developing the robot in November 2014. The first prototype was produced in January. "We can apply the technology and processes involved to a wide range of robotic devices, to make them more efficient, durable and reliable. In the future we could begin to use these robots for dangerous or remote tasks," Li said.