World's Youngest Couple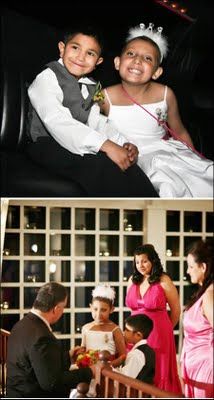 Every little girl dreams about her wedding day, complete with visions of a big beautiful white dress and, of course, the perfect man. But 9-year-old Jayla Cooper didn't have a lifetime to wait for Mr. Right. The Southlake, TX, girl had
been battling leukemia for two years, a battle that would end in just a matter of weeks. But what Jayla did have was a groom. He's her best friend, Jose Griggs, 7, a fellow patient at Children's Medical Center in Dallas. Jayla and Jose tied the knot in February 2009 to fulfill her final wish: Getting married in a beautiful wedding, surrounded by family and friends. From the flowers to the banquet hall, donations poured in to give a North Texas bride the wedding of her dreams.
Couple with Largest Difference in Height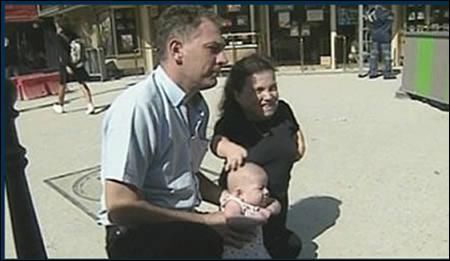 Fabien Pretou, born on June 15, 1968, in France, measuring 188.5 cm (6 ft 2 in) in height, married Natalie Lucius, born on January 19, 1966, 94 cm (3 ft 1 in) tall, at Seyssinet-Pariset, France on 14 April 1990. The height difference is of 94.5 cm (37 in). Their home is custom built for Natalie's convenience.
Couple with the Greatest Age Difference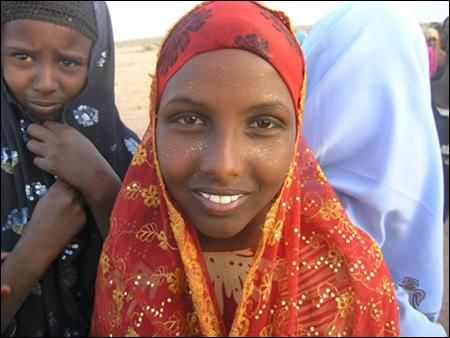 A 112 year-old Somalian man got married for the sixth time, to a 17-year-old girl. The wedding between Ahmed Muhamed Dore and Safia Abdulleh took place in Guriceel, in the Galguduud region of Somalia. Mr Dore and his teenage bride are from the same village, and he said that he had waited for her to grow up before proposing. At 95 years older than her ? if his claimed age is accurate ? he is old enough to be her great-great-great-grandfather.
The only couple to have won the lottery twice? with the same numbers.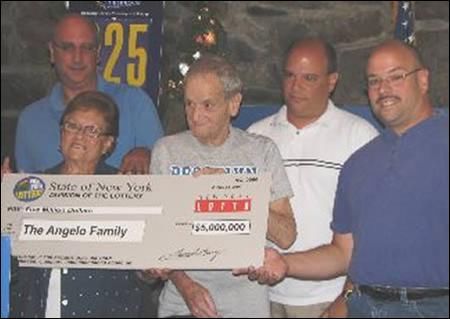 The Angelo couple is in the money?again. The family, made up of Eugene, Sr. (81) and his wife Adeline (74) and the couple's three sons, Eugene, Jr. (48), Steven (47) and Michael (42), is no stranger to money, having won a $2,500,000 share of a $10,000,000 Lotto jackpot in December 1996 as well. The win marks only the third time, in the 29-year history of the New York Lottery's Lotto game, that a player has become a jackpot winner twice. Originally from the Bronx, the Angelo's, who resettled in Mahopac and nearby Brookfield, CT., recalled memories of their first win as they claimed their latest Lottery prize ? a $5,000,000 Lotto jackpot from the drawing held on August 18, 2007. The odds of anyone matching all six Lotto numbers from a field of 59 are 1:22,528,737 on a minimum $1 play. Lotto players receive two games for every $1 played. Overall, the odds of winning a Lotto prize are 1:46.02. What a lucky couple!
The Couple Separated for the Longest Time (60 years)


Sixty years ago, Boris and Anna Kozlov were married for only three days before he had to ship out with his Red Army unit. When he returned, Anna and her family were gone ? exiled to Siberia by Stalin's purges. Then one day, on a chance encounter, they found each other again!
?I thought my eyes were playing games on me,? Anna said. ?I saw this familiar looking man approaching me, his eyes gazing at me. My heart jumped. I knew it was him. I was crying with joy.? 80 years-old Boris had returned to visit his parents' grave. As he stepped out of the car, he looked up to see Anna standing by her old house, where they had lived for the few days after the wedding. ?I ran up to her and said: ?My darling, I've been waiting for you for so long. My wife, my life?'?
World's Shortest Couple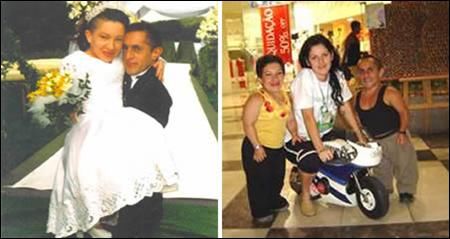 Douglas Maistre Breger da Silva, born on September 21, 1969, and Claudia Pereira Rocha, born on Septermber 6, 1972, both Brazilian, when married on October 27, 1998, in Curitiba, Brazil, measured 90cm (35 in) and 93cm (36 in) respectively, becoming the world's shortest couple. Together they measure 183cm, less than 6 feet.
Same $ex Penguin Couple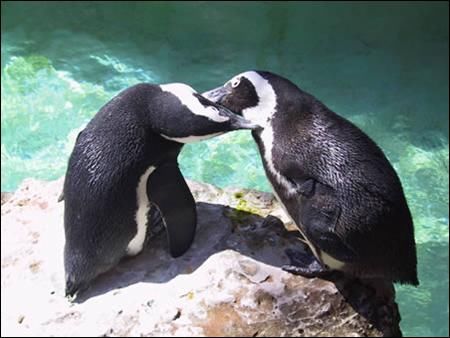 Harry and Pepper are a pair of adorable male Magellan penguins at the San Francisco Zoo. The couple's relationship began in 2003, and they were together for the last 6 years. The two black-and-white birds paired off when outgoing Harry befriended Pepper, an introvert who sticks mostly to his burrow. At the time, the two were adolescents and everyone assumed they were just friends. But soon they were nesting together. Harry would gather grass and bring it home to Pepper, who would arrange it tidily in their burrow. Single females would come around, but both birds never seemed interested. They even adopted an egg together in 2008, as the pair was allowed to incubate and hatch an egg another penguin had laid. ?Of all of the parents that year, they were the best,? Brown said. ?They took very good care of their chick. He ended up being the largest chick on the island.? Sadly the happy couple broke up in 2009.
World's Largest Couple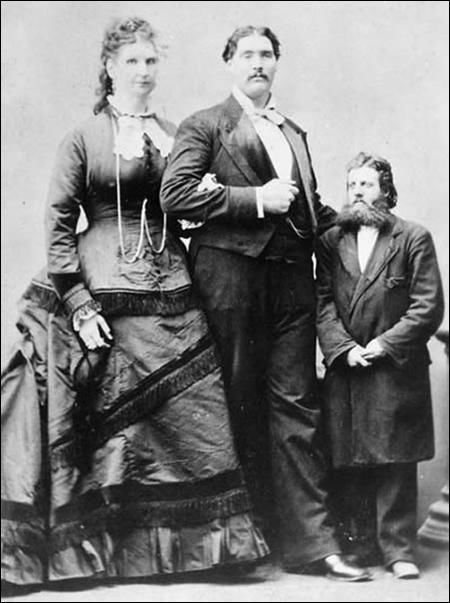 Anna Haining Swan was born on August 06, 1846 at Mill Brook, Nova Scotia and weighed 18 pounds. At age 5, Anna Swan was 4 feet 8 inches tall, and full grown she reached a dizzying height of 7 feet 5 1/2 inches (about 228cm). Martin Van Buren Bates was born November 9, 1837 and was known as the 'Kentucky Giant', reportedly reaching a height of 7 feet 11 inches, but more accurately it was about 7 feet 2 1/2 inches (219cm).
When visiting a circus in Halifax with which Martin Van Buren Bates ? another enormously tall person ? was travelling, Anna was spotted by the promoter and was hired on the spot. The giant couple became a touring sensation and eventually fell in love, and on June 17, 1871, in St Martin-in-the-fields in London, they got married. Rev. Rupert Cochrane, a friend of Anna's family, who happened to be preaching in London at the time, agreed to conduct the ceremony. Despite his 6-feet-3-inch (1.91 m) stature, the Reverend looked small when standing next to the giant bride and groom. Their combined height was an astonishing 14 feet 8 inches (over 4,5 m).
World's Longest Married Couple (85 years)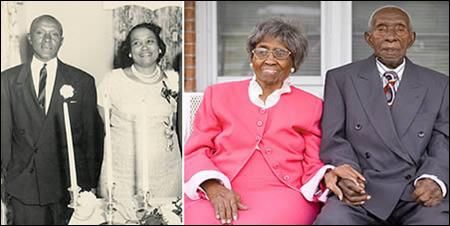 Herbert and Zelmyra Fisher, of North Carolina, have been married for 85 years as of May 13, 2009. Zelmyra is 101 years old and Herbert turned 104 on June 10th, 2009. They have shared the same home in the Brownsville community of New Bern for 50 years. The two of them can still give their reasons for marrying on May 13, 1924.
Couple with the Same Full Name, Meet Mr and Ms Kelly Hildebrandt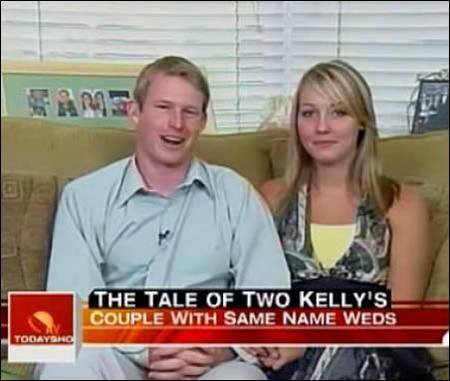 It's not too unusual to hear stories of married couples who met online. But it IS unusual when that couple that meets online and marries also has the same name. In this case, it's a guy from Texas named Kelly Hildebrandt and a gal from Florida named Kelly Hildebrandt. They are about to get married. Kelly Hildebrandt met Kelly Hildebrandt when Kelly, the girl, looked up her own name on Facebook. ?I was like, ?I wonder if there's any other Kelly Hildebrandts on Facebook',? she explained. ?So, I searched my own name and he's the only one that came up. And actually, in the picture, he didn't have his shirt on, and I'm like, ?oh, he's cute!'? And the Kelly in Texas was also intrigued. ?She started off, ?Hey, I see we have the same name, and I thought it was kinda cool, so I wanted to say hi, I guess'. Lots of laughs,? he said? Eight months after that innocent Facebook message, Kelly proposed to Kelly, and pretty soon they'll become Kelly Hildebrandt squared.