There's a mysterious hole in the ground along Denmark's shoreline, just outside the city of Aarhus. Even stranger is how this square shaft, covered with glass and reaching down into the dark depths of the Earth, is lined not with dirt or stone, but with books. It's like a tiny, subterranean library, completely inaccessible from the surface, and with the words in its books locked away in secret.
You can look at the books, but their titles and spines are oriented in such a way that you can't see their titles.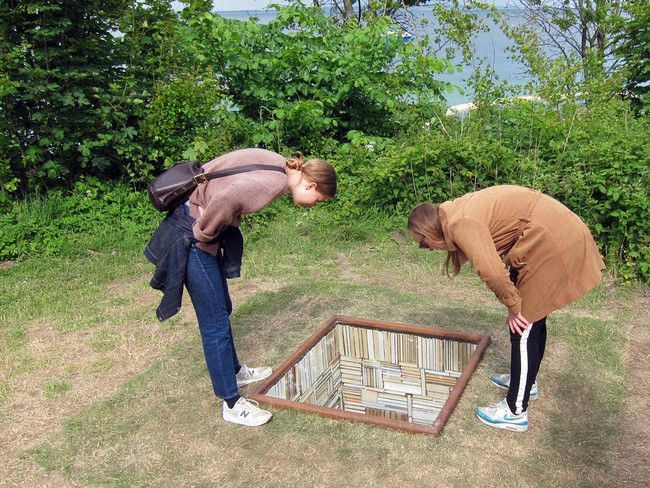 Glass protects the sculpture from the elements and from curious viewers.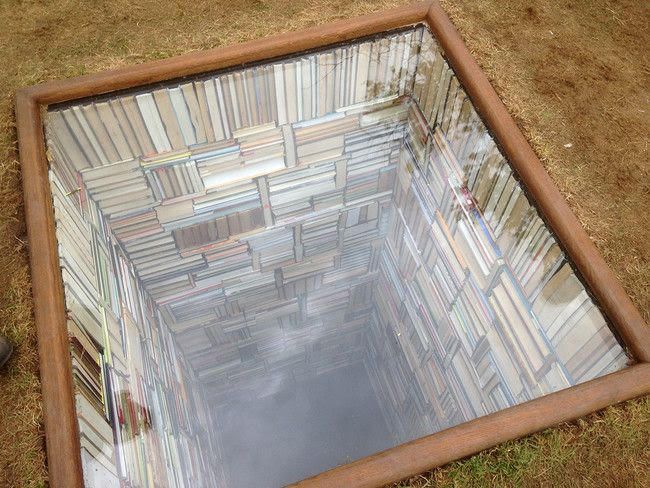 This sculpture is the work of Susanna Hesselberg, a Swedish-based artist whose work, which is typically photography, explores nature, humans, and the links between them. Sometimes, she says, a concept comes together better as a sculpture than a photograph. This seems like a strange sculpture, and everyone's immediate reaction is to make a pun about book drops. However, learning the title of the piece is sobering, and adds another, deeply emotional dimension to it.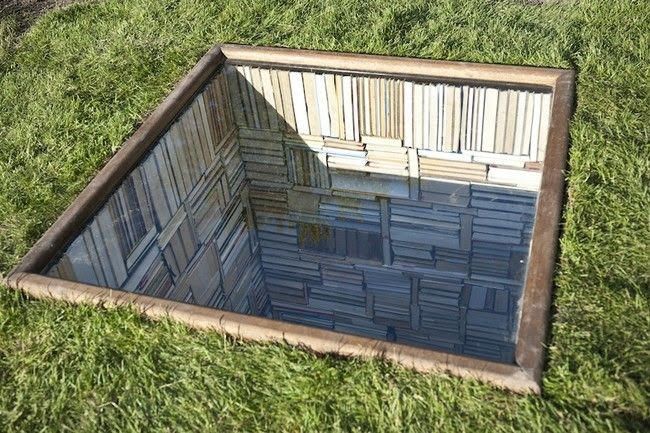 It's called When My Father Died It Was Like a Whole Library Had Burned Down. It references a song by Laurie Anderson, and speaks to the knowledge that is forever lost along with a human being. Suddenly, the sculpture becomes less of an amusing visual oddity and more of an expression of bottomless loss. For her part, though, Hesselberg says that this is not a reflection of her personal life, but rather an exploration of the song's line itself.
The shaft seems to go on forever.
The piece was created using nearly 3,000 books, all carefully sorted, stacked, and glued together, then inserted into the ground. "No mirrors or illusions," Hesselberg says. "Just a lot of hard work."
For Hesselberg, the piece speaks to the knowledge of humanity. "For me, the books are symbols for human knowledge and life," she says. "Every book a story, a small universe of time, space and thoughts between two book covers. To bury them like this could be like an excavation of humanity or like a tomb."
On the other hand, she also sees the aesthetic appeal in the arrangement of the books, which she compares to a Mondrian painting. So what's the right interpretation? "I leave that for the public to decide."
Another of Hesselberg's book pieces, and the abstract design the books create when stacked.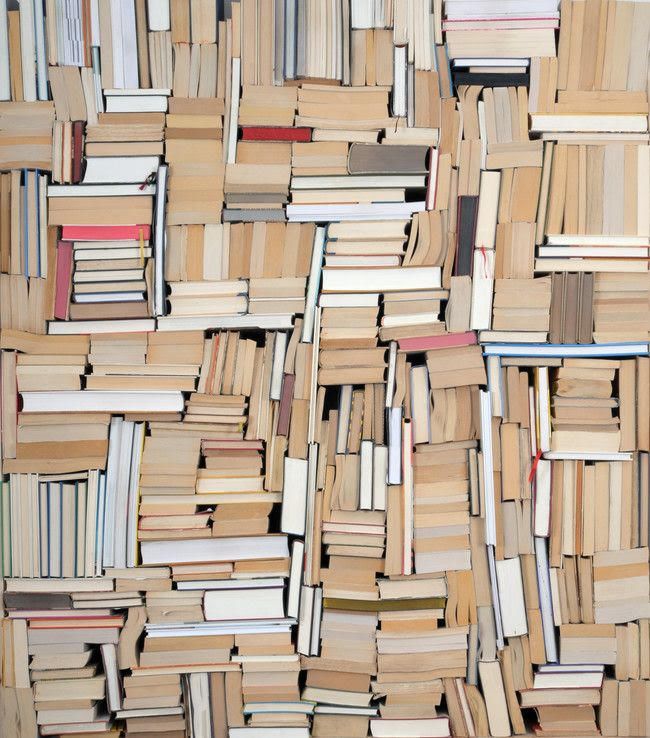 This piece is currently on display in Aarhus, Denmark, as part of the biennial sculpture festival Sculpture by the Sea, which celebrates the art of sculpture by bringing artists from around the world together to display their works on the scenic coast. Open to the public, Sculpture by the Sea invites festivalgoers to explore these pieces, as well as to appreciate the country's lovely shoreline.