India is a land rich in its myths and legends. There is an ocean of fascinating characters hidden inside its many lores and epics. One of the more underrated characters from them is Jatayu – a legendary bird king from the Indian epic Ramayana.
Jatayu is a demigod in the form of an enormous eagle (in some versions of the tale, he also appears as a vulture) and plays a pivotal part in the story. Upon noticing that Lanka's king Ravana was attempting to kidnap princess Sita, the brave old bird tried to save her from the king's clutches. It is said that in the ensuing scuffle, Ravana clipped one of Jatayu's wings, and the mighty bird fell on the rocks in Chadayamngalam, Kerala, where he eventually breathed his last.
The site, which is near a village in the Kollam district of Kerala, has thus been considered sacred for Hindus and is revered by many. Initially, the place came to be known as 'Jatayumangalam', but over the past years, it was named Chadayamngalam, and the hill got the name Jatayupara (Jatayu rock).
Myth comes to life – The mammoth and magnificent Jatayu sculpture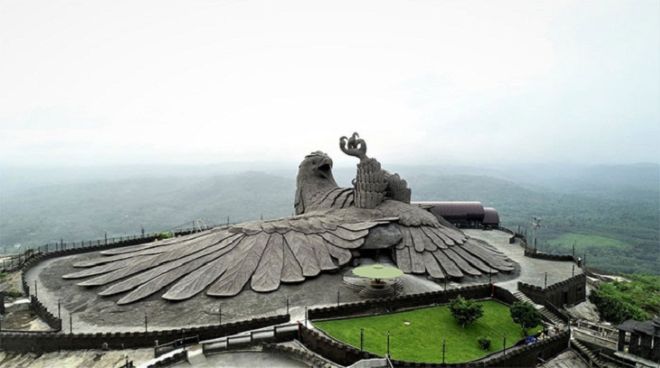 As a tribute to the mythical bird, an Indian artist has now brought the legend of Jatayu to life by creating a magnificent and colossal sculpture dedicated to him. Sculptor/filmmaker Rajiv Anchal, who hails from Kerala, has been inspired by the story of Jatayu and has heard it over a thousand times since his childhood days. "It is a powerful story with a fascinating character and has driven my imagination all these years," Rajiv was quoted as saying to an Indian newspaper.
Spanning over 65 acres across four hills, this monumental statue is 200 feet long, 150 feet wide and 70 feet tall, and it depicts the mythical bird lying flat on its back with one of its wings spread across wide. This makes it the largest functional bird sculpture in the world. Despite being so huge, its design, apart from being remarkably intricate, is flawless, elegant and gorgeous.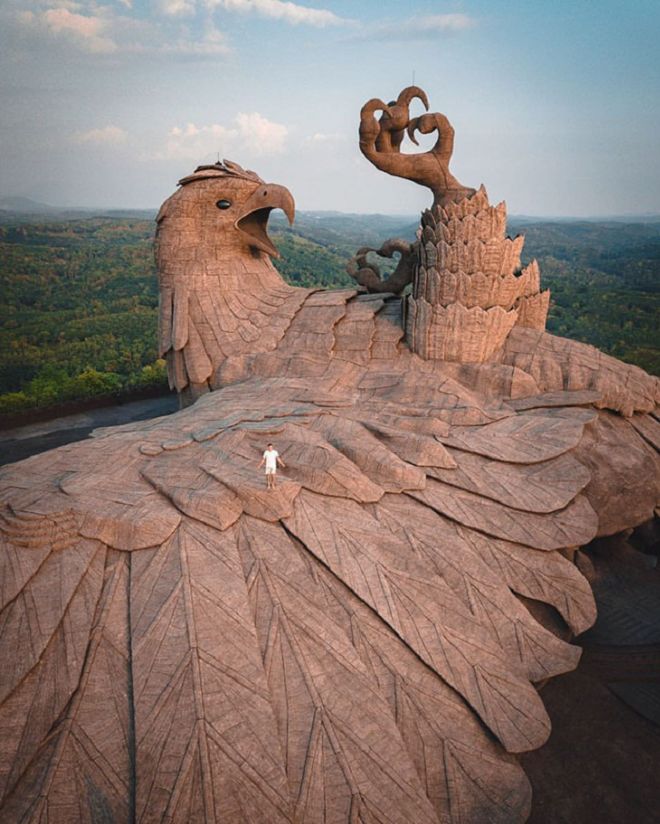 A monumental project that was 10 years in the making
Work for the construction of this massive undertaking commenced in 2011, and it was officially opened to the public in 2017. The statue is constructed out of compacted concrete, except for the talons, which are made of stainless steel.
Built on a hill that is 1,000 feet above sea level, the gigantic structure is now part of a nature park adventure center and has been named Jatayu Earth's Centre. It will serve as the perfect weekend getaway for adventure junkies.
Interestingly, while the sculpture took a few years to make, the idea for it was born more than a decade back. Rajiv Anchal had presented a model for this statue to the Department of Tourism in India during his Fine Arts College days in the 1980s. While they were impressed, the project couldn't materialize. Thankfully, Rajiv's dedication paid off and has resulted in the most exceptional structure.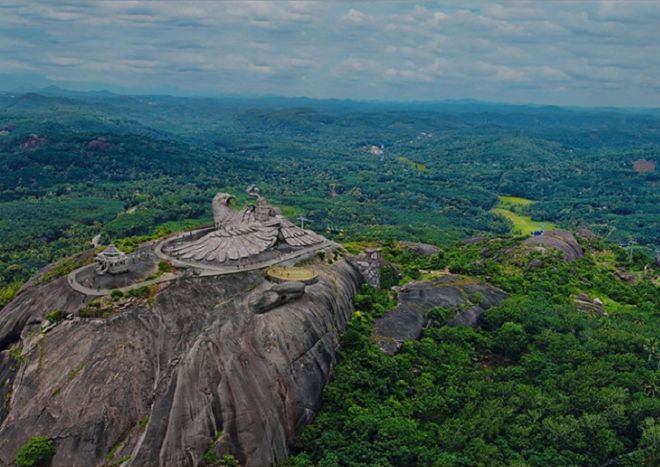 More than just a beautiful sculpture
There is also a virtual reality museum inside the mammoth Jatayu structure to give crowds something extra to enjoy. Apart from this, you can also indulge in a number of adventure activities while at the Jatayu Earth's Centre like rock climbing, rappelling, rifle shooting, and paintball. The nature park here has plenty of interesting features as well. However, it is the spectacular statue that is easily the main attraction and provides an enchanting view of the verdant hills nearby.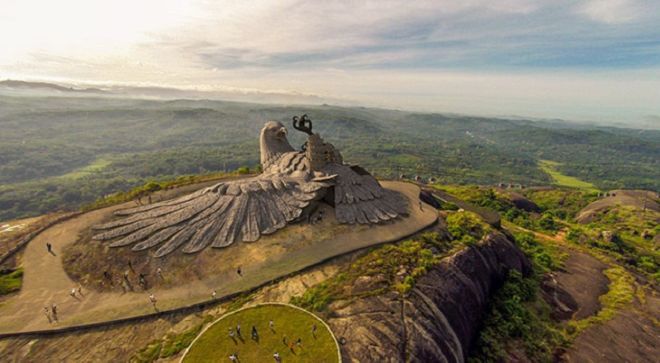 The biggest challenge while making the monument was getting the building materials to a height of 1,000 feet. The issue was resolved by using a custom-made winch for the project. Notably, all the people employed in the project were regular construction workers. A majority of them didn't even realize they were making a bird until a couple of years into construction.
Sculptor Rajiv Anchal feels that it is important that the monument is seen from a cultural standpoint. "People of all faiths have invested in the project and people of all faiths will be coming to see it. My work is for all of them," he has been quoted as saying.
Now that the Jatayu Earth Centre is up and running, it is expected to draw in crowds from the world over as it gains popularity. It is a unique, one-of-a-kind structure that certainly deserves more recognition.