Norway offers unsurpassed natural riches, but the lucky tourist who comes to this great old Scandinavian nation can enjoy more than fjords, valleys, and forests. One thing that Norway is particularly famous for is its stave churches, built entirely from wood, and generally dating from the 12th and 13th centuries, when Norway was still quite young in the Christian faith (it was converted around 1030 AD). Here we count down arguably the 10 the most interesting stave churches to be found in Norway.
10. Flesberg Stave Church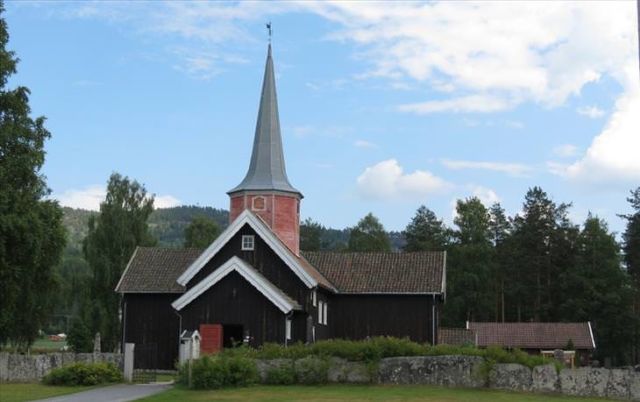 Found in Buskerud County, this 18th-century stave church was built on the site of a more ancient structure, which it has gradually replaced through various centuries of renovations. One interesting feature of this site is the slate wall that surrounds the sanctuary. There are iron rings fixed to the wall by a local farmer who used them to tie his horses to while he went to pray.
9. Gol Stave Church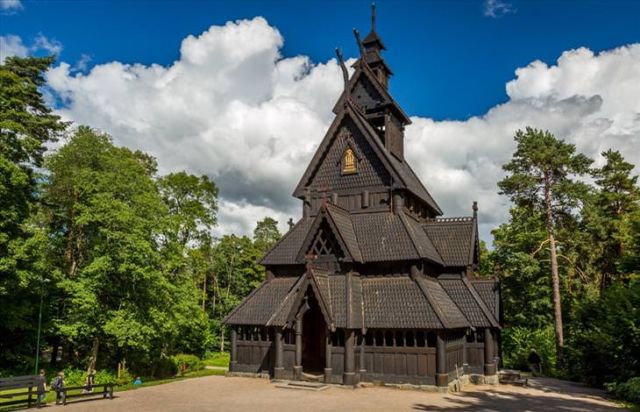 Gol stave church was originally built in the city of Gol, but once it was decided, one hundred years ago, to replace it with a new structure, Norway's King Oscar II ordered it be taken and removed to the Norwegian Museum of Cultural History in Oslo, where it now stands. This famous church, with several pitched roofs, has so impressed both locals and foreigners alike that it has been copied many times. There is, in fact, a replica of Gol stave church in North Dakota, USA.
8. Undredal Stave Church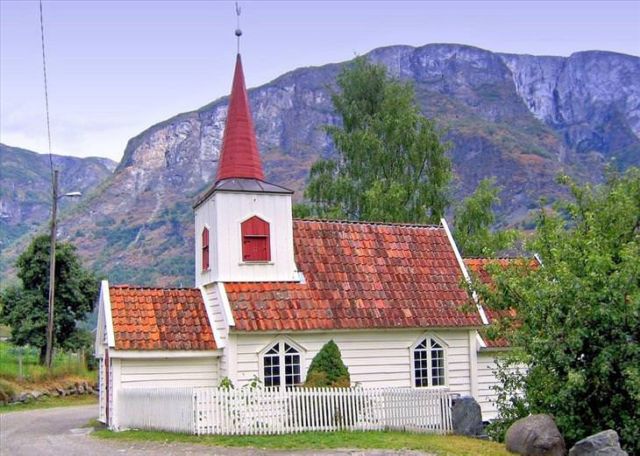 Originally built in 1147 in the tiny village of Undredal, this little stave church has also been relocated time and time again. It is perhaps one of the smallest stave churches in the entire country, with a mere 40 seats. The building's floor plan has been measured at 4 by 12 meters (13 by 39 feet).
7. Roldal Stave Church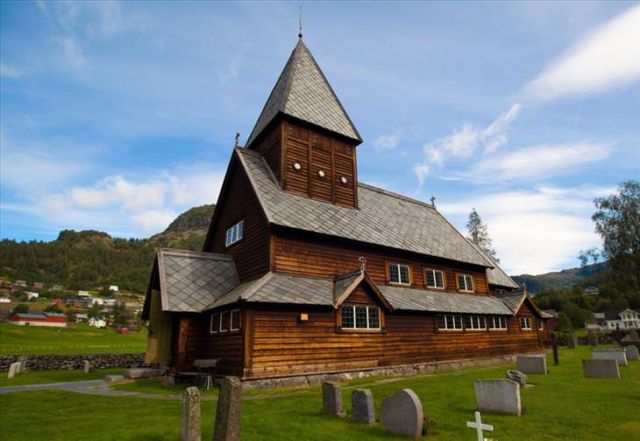 This handsome village church spends most of the time as a museum, yet for 2 days a month, it's open to worshippers for Sunday services, continuing a tradition that first arose when the building was constructed sometime in the 13th century. The interior of the church contains some wonderfully intricate wooden carvings, depicting many important bible scenes.
6. Kaupanger Stave Church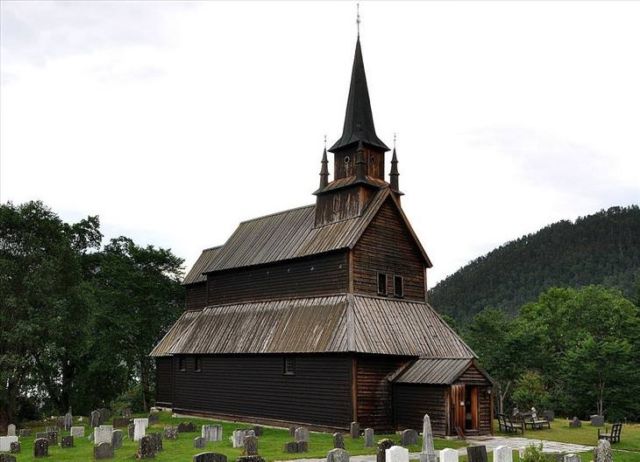 Kaupanger stave church has been used by worshippers for over eight centuries. It contains quite a number of 'staves', which are in fact weight-bearing columns built from timber. The building was drastically renovated in the 19th century. However, traditionalists in the 1960s decided to undo some of the worst architectural sins of that renovation and have restored it back to its former glory.
5. Relini Stave Church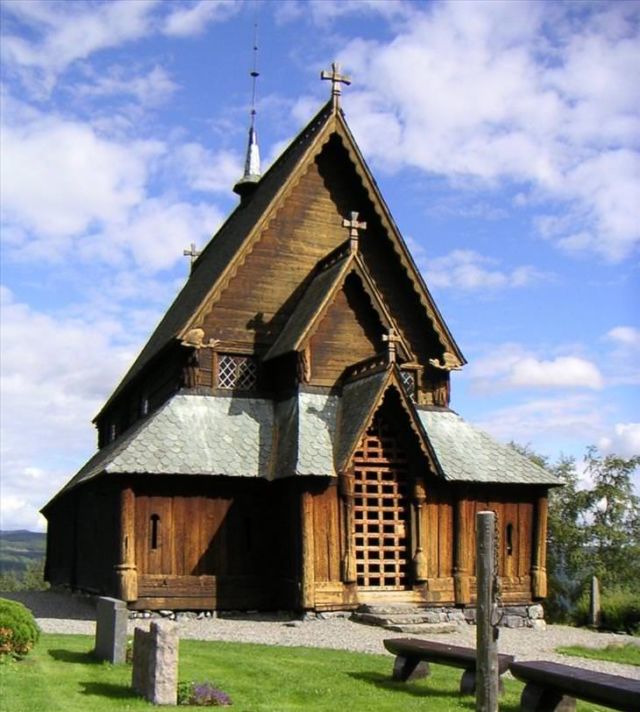 Reinli is a magnificent example of Norwegian stave churches. First constructed in the 12th century on the site of an earlier pagan temple, the church has been somewhat improved in recent years with the much appreciated addition of electricity, lights, and heating. Remember that Norway can be an awfully cold place in winter!
4. Hopperstad Stave Church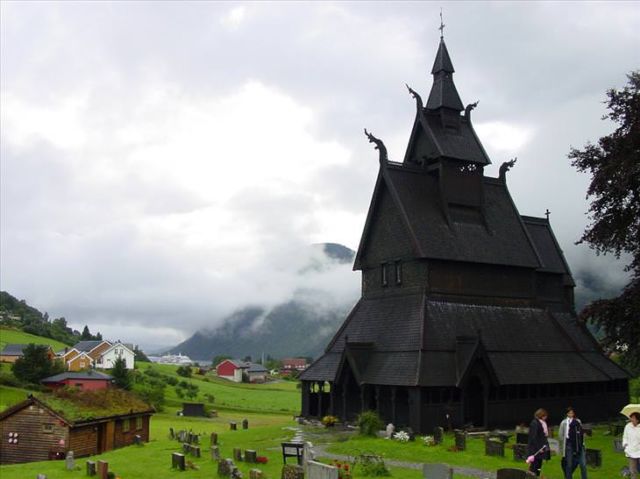 One of Norway's oldest churches, Hopperstad can be found in the little village of Vikoyri. Originally built in the 12th century, the structure was virtually abandoned and forgotten by the 1800s. Much of the original wooden paneling was even stolen! Of course, now the church stands as proudly as it ever did, and enjoys much patronage from locals and foreigners, delighted by the special building.
3. Urnes Stave Church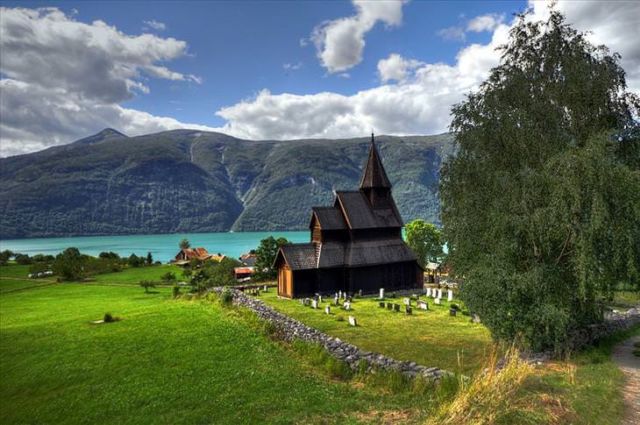 Though this 12th century masterpiece set alongside the beautiful fjords is no longer used for regular services (how sad!), it still stands as an important monument to Norway's Christian heritage. Much of the animal imagery depicted in this lush location combines both biblical with Norse mythology. It's places like Urnes that really demonstrate the peculiarities that make Norway truly Norway.
2. Borgund Stave Church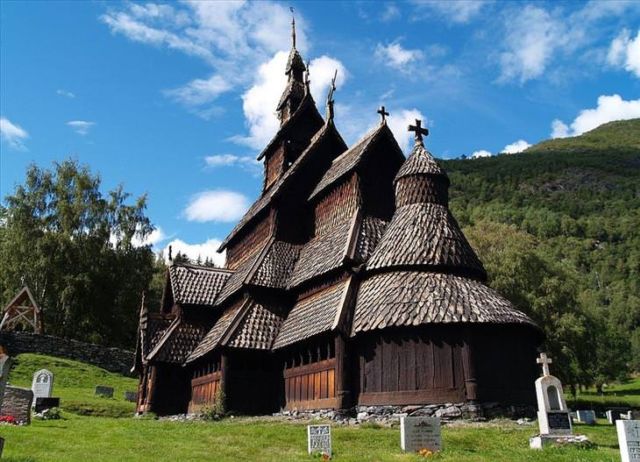 Built between 1180 and 1250, Borgund is one of the most celebrated stave churches in Europe. A basilica style structure, the church is notable for its steep ascending roofs that overhang each other like armored plating. Unfortunately, the building is used as a museum rather than as a true church, with no services permitted on the site. Yet, keen tourists will be thrilled to discover the 13th-century inscriptions that the wall is covered in.
1. Heddal Stave Church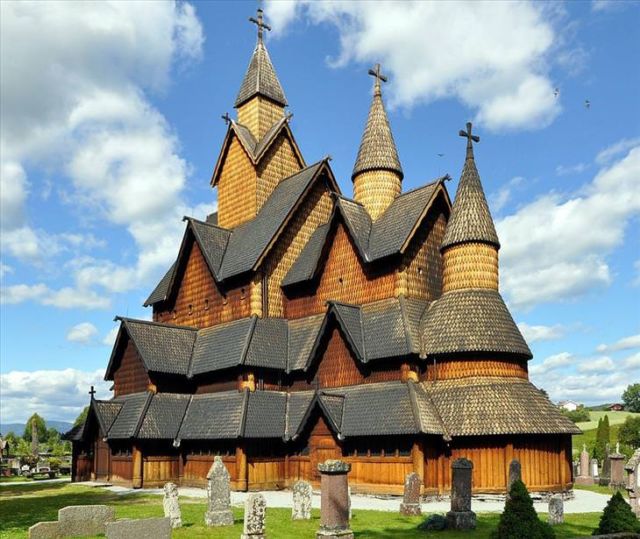 Saving the best for last, Heddal stave church is a gargantuan feat of architectural mastery. Built during the 13th century, legend claims that it was the work of a mere five local farmers who worked flat out for three days to construct this the biggest and greatest of all stave churches. The exterior was given a reworking during the 19th and 20th centuries, but this was only done to help restore it back to its resplendent former self.